About Us | Mission Statement | Resources | Contact Us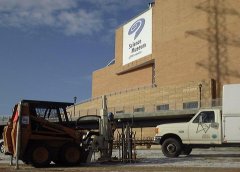 Jim Stockinger of the MN Pollution Control Agency completes a direct push boring to sample ground water at the outdoor Big Back Yard of the Science Museum of Minnesota.
(Click photo for larger picture)
Minnehaha Creek Watershed Project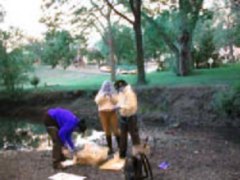 In 2004-05, the Minnesota Ground Water Association worked on a service learning project with students from Benilde – St. Margaret's High School. The purpose of the project was to examine the water resources of the Minnehaha Creek Watershed.
Students gathered information about water quality, soils, geology, ground water, ecology, hydrology, history, land use, and management for individual lakes and Minnehaha Creek. They then placed this information on their school website. Additional information about the project and ground water resources of the watershed can be found at here.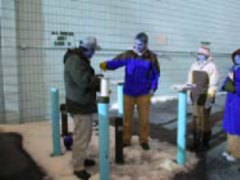 This project was a joint effort of the Minnesota Ground Water Association, Minnehaha Creek Watershed District, Minnesota Pollution Control Agency, and Benilde – St. Margaret's High School. The project was partially funded by the Minnehaha Creek Watershed District through the Cynthia Krieg Watershed Stewardship Fund.
About Us
The Minnesota Ground Water Association's Environmental Education Committee was established in 2000. Currently, the Committee consists of seven volunteer members. The Committee meets monthly to discuss projects related to our Mission Statement.
Mission Statement
More than two-thirds of Minnesotans get their drinking water from ground water; yet many citizens, legislators, and even environmental professionals have little or no understanding of this critical resource. Ground water supplies are vulnerable to depletion and contamination as population and land use change.
The MGWA Ground Water Education Committee is dedicated to educating people about ground water. We promote partnerships with those that provide education about ground water, provide educators with tools for teaching students about ground water, and provide information to citizens, legislators, and resource managers to help them understand how they can protect ground water. Our expanding emphasis on education reflects a realization that protection of the ground water resource can only occur if the public is knowledgeable about ground water.
Calendar
Resources
In addition to the information on our web page, we offer the resources described below. Contact us for more information.
Classroom demonstrations on ground water flow and water quality sampling
Classroom lectures on a variety of water-related topics
Videos on ground water issues
Ground water model (a sandbox model designed to illustrate how water and contaminants flow through soil)
Catalogs and directories
Ground water fact sheets
Contact Us
Mike Trojan
Minnesota Pollution Control Agency
520 Lafayette Road
St. Paul, MN 55155-4194
(651) 296-7270
mike.trojan@pca.state.mn.us